Anglophone Crisis: Last Negotiating Weekend: Journalists, Parents, Fons Enter the Scene
As the school bells are ringing for back to school second term next Monday January 9, 2017, the future is still uncertain to Pupils and Students in North West and South West regions of Cameroon. Teachers Trade Unionists have maintained that the strike action must continue unless governments grant their request.
Wilfred Tassang of the Cameroon Teachers Trade Union says it is a good thing that the eight members requested to be added to the ad hoc committee for teachers were finally included in the list but that they will only sit to negotiate when all the youths arrested in Bamenda and Kumba are released. He said while observing Monday ghost town in the two regions, they are ready for dialogue if those conditions are fulfilled.
Enter Prime Minister
Prime Minister Philemon Yang in a release Friday has called on parents to send their children to school come Monday January 9, 2017 .He invited the education family to put hands together for the smooth start of the second term in these two regions despite ongoing strike action by teachers. The PM has assured all and sundry that security measures for the kick off have been taken.
Philemon Yang also said government is ready to partake in meaningful dialogue with Trade Unionists to arrive a consensus to improve on English sub system of education. He said the issues have been identified and that solutions are underway.
CAPA Gives Unflinching Support To Teachers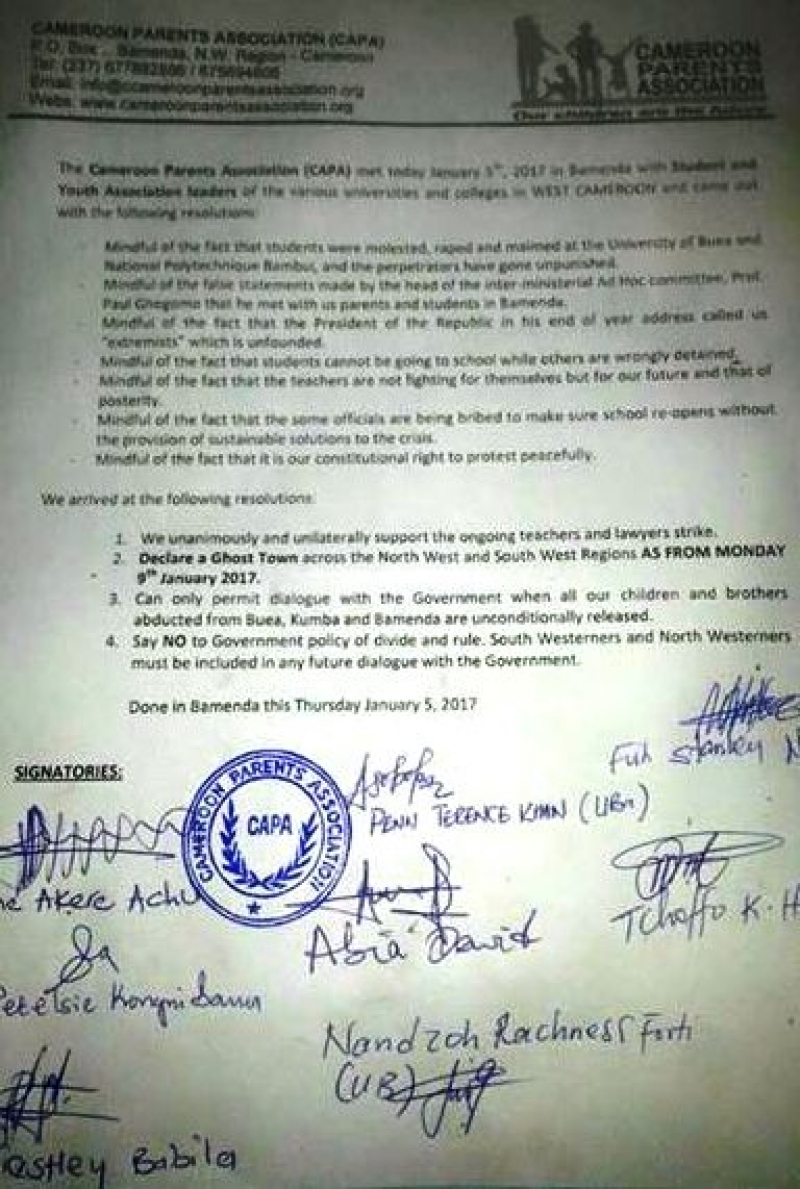 The North West region based Cameroon Parents Association, CAPA, has given its unflinching support to striking teachers assuring them that they will observe the ghost town come Monday. The release signed by eight representatives partially reads, "We unanimously and unilaterally support the ongoing teachers and lawyers strike, declare a ghost town across north west and south west as from Monday January 9,2017."
The Parents also said dialogue can only be sincere if youths 'abducted' in Bamenda and Kumba are released. They also decry the divide and rule system of North West and South West people implored by the government.
Conf' Journalists Condemn Peers  
A group of Journalists (two persons) in the North West region under the umbrella of Confederation of Anglophone Journalists have condemned treatment of the current strike action by some Bamenda based Journalists. In a Press conference Thursday in Bamenda, President of the Confederation, Roland Tamukong said Cameroon must remain one and indivisible and called on Journalists to remain impartial. However he received a backlash from a majority of North West Journalists who say he, Tamukong and others who organized the event were beggars and have eaten from the system. We could not confirm allegations that dance groups were invited after scores of media men boycotted ,we could not also confirmed that those who attended were given 50,000FRS as 'pediem' to write a good report in favor of school resumption.
Some North West Fons Resist 'Bribe'
Fons in Ndu sub division, Donga Mantung Division have reportedly refused to cede to demands of Divisional Officer of the area to lure parents send their children to school come Monday. They told the DO that it is the place of teachers and lawyers to tell the students and not traditional rulers.
On his part, the Fon of Tabeken, Ngwayi Polycarp has called on his subjects especially pupils and students to avoid market places and crowded areas, though he did not come out clear on his stance ,it is rumored that he is trying not to victimize himself but supporting the struggle .
North West Governor Holds Security Meeting
The issue of school resumption in the North West region was at center of discussion in a regional coordination and security meeting held in Kumbo, Bui Division of North West region. Adolphe LELE L'Afrique called on parents to send their children to school and urged chiefs to persuade them do so.