May 20 Celebration: AYAH Paul's PAP to Boycott 20th May Parade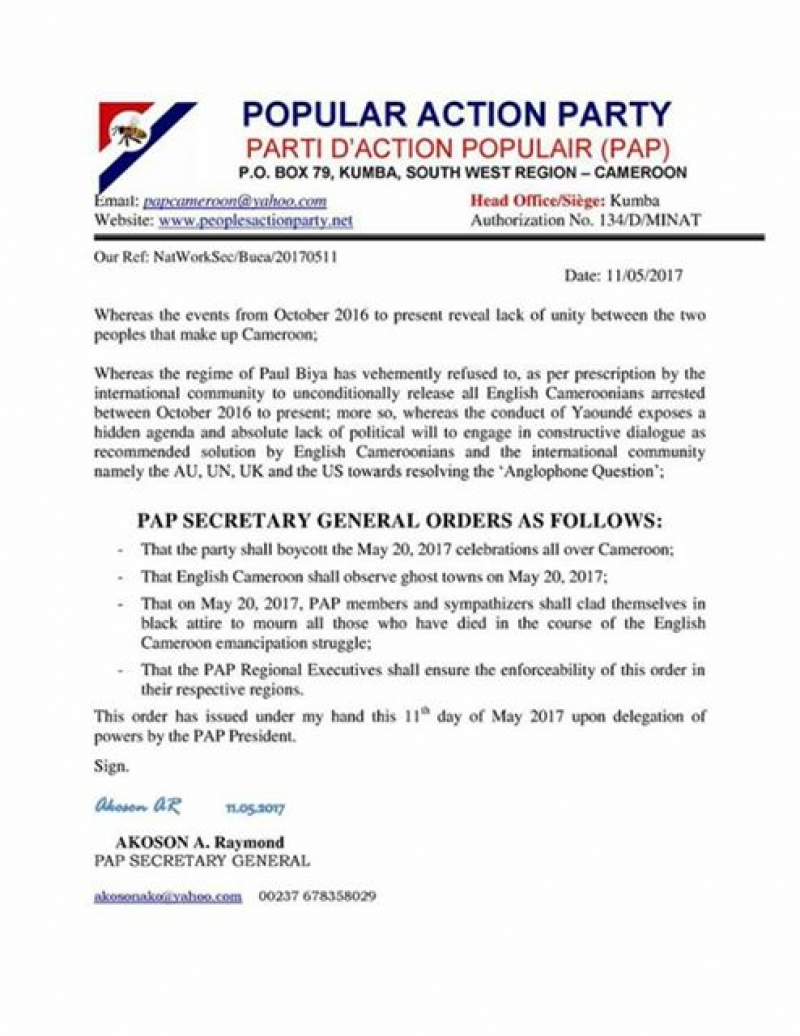 The Secretary General of the Popular Action Party, PAP, Akoson Raymond has announced the party's boycott of the May 20 celebration in Cameroon.
In a release signed by the Scribe, the party advances explain that the events from October 2016 portrays lack of Unity between the two peoples that make up Cameroon, the continuous detention of Anglophones arrested during the heart of the crisis, the lack of will by Yaoundé for constructive political dialogue as recommended by English speaking Cameroonians and International bodies like AU, UN,UK and the US towards resolving the crisis.
The SG of the party of Ayah Paul Abine in his release reiterated that it will join others to observe ghost town on May 20 and that PAP members and sympathizers will dress in black attires in memory of all those who have died during the crisis.
The leader of PAP, Chief Justice Ayah Paul Abine is one of the persons arrested during the crisis and the SG reveals that the decision to boycott the parade is coming from the Advocate General at the Supreme Court.
PAP now joins SDF, CPP, PADDEC to boycott the May 20 Parade in Cameroon. Cameroon Renaissance Movement of Maurice Kamto has also announce a boycott if security measures are not beefed up in the two regions.